How to stop Kodi from constantly buffering? Undoubtedly, Kodi 17.1 has become the world's most demanded and famous medium for streaming. It let you watch anything and everything including; movies, TV shows, live streams, etc. via Kodi. However, many people face buffering issues in Kodi while streaming the content. This can make the streaming a-not-so-good experience.
Get 68% off NordVPN (drops the price down to $3.71 per month)
(Discount is applied automatically)
In this article, I am going to show how can you fix Kodi buffering issues in two simple ways. By implementing these, you can stop Kodi buffering issues that you face while using several Kodi add-ons.
How to Stop Kodi Buffering – Alter Cache Size
A cache is the data of your videos played and streamed via Kodi. These are temporary data files carrying information about your video streaming and occupies your hard drive RAM. Furthermore, after some time your Kodi app runs on low memory as cache size is bigger in the memory. However, it also depends on the device memory like for instance; a Mac or Windows PC, for instance, can handle cache much better than other devices. This means the bigger the cache, the slower streaming will be, and you face buffering often.
However, there are some ways to can minimize the size of your cache file. Using the Ares Wizard addon probably is the safest and easiest method. Below are the steps to install the Ares Wizard Addon on Kodi and then how to use it to fix Kodi buffering issues.
How to Install Ares Wizard on Kodi 17.1 Krypton?
Open your Kodi Krypton app and then click on the Settings Icon in the top left corner.
Then, go to System Settings -> Expert Mode -> Add-ons.
Make sure to turn on 'Unknown Sources.' Otherwise, you will not be able to install third-party add-ons.
When the warning box pops up, click 'Yes'.
Now go back to the Kodi home screen, and click on the 'Settings' icon.
From here, go to File Manager -> Add Source.
Select None and then enter the following path without the quotes "http://ares-repo.eu/".
Name it 'Ares' and click 'OK'.
From the Kodi home screen, select Add-ons.
Click on the Package Installer Icon at the top left corner.
Select 'Install from Zip File' -> Ares -> repository.aresproject ->repository.aresproject.zip .
Wait for the 'Ares Wizard Enabled' notification box.
Now select 'Install from Repo' -> 'Program addons' -> 'Ares Wizard' -> Install.
The download and installation process will begin.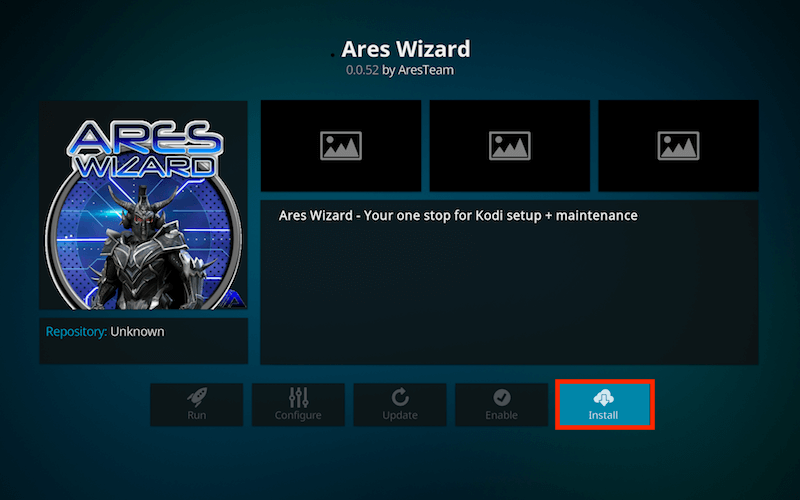 How to Adjust Cache Size on Kodi Using Ares Wizard?
Now go to 'My addons' -> 'Program Add-ons' and choose 'Ares Wizard.'
From within the Ares Wizard, click Tweak -> Advanced Settings Wizard -? Next -> Generate Settings -> Apply
This will generate the optimal cache setting for your device.
You can also tweak which files you'd like Kodi to buffer by choosing one of four different Cache modes.
Mode 1: Here, Kodi buffers all Internet streams including FTP.
Mode 2: Kodi buffers absolutely everything.
Mode 3: Kodi only buffers streams from sites.
Mode 4: Only choose Mode 4 if you'd like to disable buffering all together.
If none of these tweaks doesn't even slightly improve and fix Kodi buffering issues, then your ISP is probably throttling your Internet speed while you are watching videos online.
Fix Kodi Buffering Issues – Bypass ISP Throttling
Furthermore, in case you don't know about it but many Internet Service Providers (ISP) throttle your internet speed when you try to watch a movie or video online. However, they don't accept it, but they do it to avoid copyright infringement and to distribute the same bandwidth among the internet users connected to the ISP. You can know it is happening with you by testing your internet speed on http://beta.speedtest.net/ before streaming. And if suddenly as soon you start watching the movie or video your speed drastically drops. It means your ISP knows what are you up to over the internet and throttling your internet connection speed.
However, you can hide your online activities from your ISP to avoid ISP throttling your connection speed while you stream online. You can do it by using a VPN while watching movies or Tv shows on your Kodi. Follow these steps to get it done. Later I have also recommended some best VPN for Kodi; you can select one as per your requirement.
First, sign up for a reliable VPN service as I recommended some below which works best for Kodi.
Then, Download and install your VPN provider's app on your PC, Mac, iOS, or Android.
Launch the app and connect to a server of your choice. Generally speaking, the closer the VPN server's location is to where you currently are, the faster your Internet speed will be. Read more How to Test VPN Speed.
Now that you have established the VPN connection, all your Internet traffic and private data are securely encrypted. Your ISP will no longer be able to eavesdrop on what you're doing online. Thus, they will not be able to throttle your Internet speed.
How to Fix Kodi 17 Buffering Issues– Additional Tips and Tricks
Test the streaming of the same video on the different VPN servers to get the fastest speed connection.
Use an Ethernet cable instead of WiFi if you are using Kodi on a Mac or PC to connect your device to the router. Wifi lags more than cable.
However, if you are connected to the Internet via WiFi, try moving closer to the router if possible to get the best signal strength.
Delete the Kodi cache. To do so, follow these steps:
1. Run the Ares Wizard.
2. Go to 'Maintenance'.
3. Under 'Total Storage Regained', select 'Delete Cache'.
Final Words
Consequently, I can say that these two simple methods worked for me and increased my speed. I can say I can fix Kodi buffering issues. The combo of clearing cache and using VPN to stop speed throttling is a winner so far. If you come across any other methods to stop Kodi buffering, let me know in the comments.