Since this is the time when our security and privacy is highly at risk. And the malware and adware are getting more advanced and sophisticated to target us most uniquely so that we fall victim quickly. Most of the time, the cyber attackers succeed in injecting malware no matter how careful we behave. Subsequently, if you have been subjected to any malware attack and do not know how to make your system malware free, then this is the right place to get information from. This malware protection guide will help you to remove malware and clean your PC to make it functional again. But yet again, precautions are also compulsory in order to be safe rather than being sorry later.
Get 72% off NordVPN (drops the price down to $3.29 per month)
(Discount is applied automatically)
Where every valuable data is in our systems, we have started treating it as an asset and never want to lose the most sensitive data. To that end, the corporations and individuals have mostly started managing good cyber hygiene. But, sometimes that seems inadequate, and somehow the cyber crooks manage to crack all the protection and inject malware into the systems. This affects both individuals and corporations big time after all sensitive data is valuable for both of them. But, you still can save your data even if you sensed the symptoms of malware intrusion in your system. All you need to do is to make some urgent and necessary steps given in the malware protection guide below.
What's Malware?
Simply stated, malware is any software that is designed for malicious purposes. This malware aim to achieve the unauthorized access to any system it is injected in, in order to breach the security and privacy of the user. This malware come in various forms to perform different task in a bid to attain malicious aims. Initially, the computer viruses were considered as malware. It's program that targets other legitimate programs, replicating its code at the time of boot.
How Do Malware Make Way In Your System?
Presumably, there are multiple ways through which a malware makes entry into your system. It can get the way to your PC through emails, that's when you click any malicious link sent to you in the phishing email. Moreover, there are other ways to that cyber attackers choose to inject malware into any vulnerable system; that includes malicious attachment sent via messenger, file sharing, malicious links on social media, scammy ads on the websites and pirated software. In short, it all starts from your vulnerability and carelessness. (also see, PHISHING ATTACKS – 5 TIPS TO PROTECT YOURSELF)
Why Do You Need Malware Protection?
Well, that comes as quite an obvious thing, the reason why you should need malware protection is to save yourself from the hazardous aftermath of any malware attack. You can't rectify immediately how deeply any malware can affect you because different malware acts in unique ways. So, it is also better to go for malware protection to minimize the damages any malware could potentially make in your system.
Steps To Remove Malware:
Follow the steps given below to remove malware in our malware protection guide.
1: Backup Your Data Before Removing Malware:
Undeniably, backing up your data before you kick off removing the malware is a prerequisite if you do not want to lose your valuable data stored on the infected system. It's because some malware are intelligent enough to sense the removal process and most of the time they start deleting your personal data so that you may stop the removal process. So, in order to not let that happen, it is a wise practice to make a backup of your data in any external source like CD, DVD or USB. Moreover, never go for backing up your data in cloud storage services like Google or OneDrive, it is because it can result in account password cracking by Keylogger, making the case even worse. However, these files that you will need to backup like images, videos, audios or word document generally remain uninfected. It's because malware targets only those program that you need to run on your system. But, if you are still ambiguous about whether or not the data is safe; you can apply the following step-by-step method to scan your data while removing malware with the help of our malware protection guide.
2. Disconnect Your Internet Immediately:
As soon as you sense the malware attack, do not take a signal second to disconnect your internet connection; it is because the malware attack could be powerful enough to penetrate in your network, harming all the other devices on the network.
3: Start Your System With Save Mode:
Now the second step is to boot your system in Microsoft's Safe Mode. This comes as an important step because in Safe Mode, the system only allows a specific lot of program to run and if the malware attempt to run a malicious program when the Windows boot, this Safe Mode will not let it happen. Also, it is easy to remove all the malicious files and program because in safe mode the programs and files are not running actively.
Here is how you can switch to the safe mode in Windows 10.
Go to Start> Power(do not click anything).
Now press Shift and click Reboot.
Now when the menu appears, click Troubleshooting> Advanced Options> Startup Settings.
Click the Restart button in the next window and wait for menu to appear.
Now click option: 4 which is Safe Mode.
And if you want to run any online scanner you will need to choose option 5 which is Safe Mode with Networking.
4: Delete All Temporary Files:
Before you run malware scanner on your PC, it is always recommended to delete all the temporary files from your system that will surely speed up the scanning process and also clears up some space on hard disk. Moreover, it might also delete some malicious files too.
5: You Might Need Some Of the Best Free Malware Remover:
Here are some of the best Anti malware or malware remover that you can use to scan your computer's data. (also read, 5 WAYS TO STAY SECURE WHEN ONLINE SHOPPING)
Rkill
Kaspersky TDSS Killer
Malwarebytes 3.0
Malwarebytes ADWCleaner
Junkware Removal Tool
HitmanPro
6: Use Rkill To Stop the Malicious Process Right Away: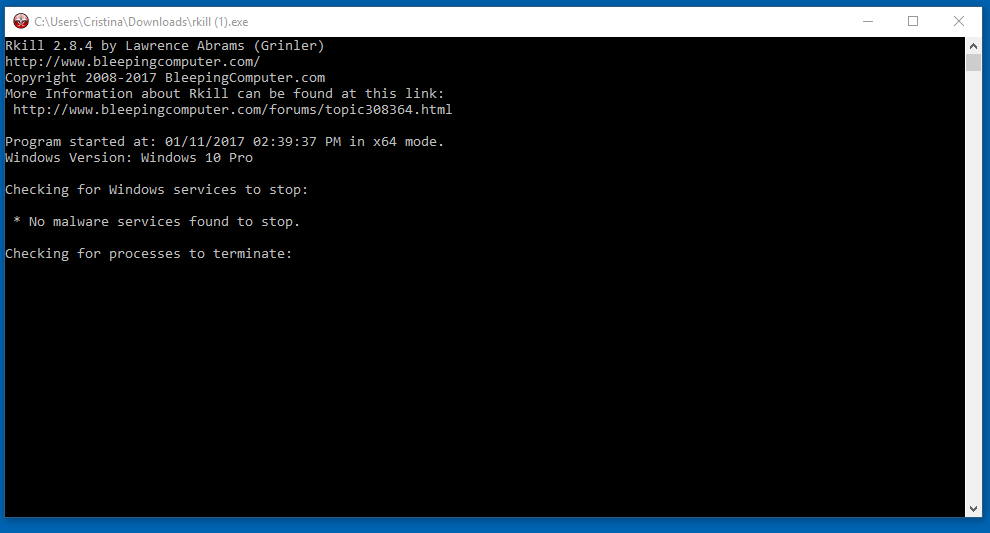 To your knowledge, there is some new smart malware that comes with built-in survival program. With the help of such program, the malware can detect the installation of any anti malware program. It then starts opposing it and deleting your data. But, Rkill circumvents the survival program and freezes the malicious process right away.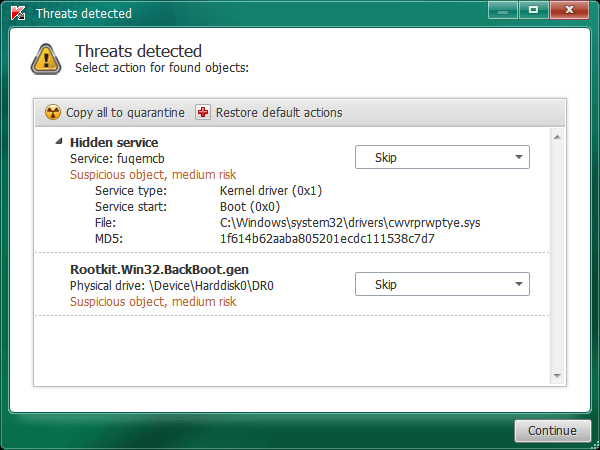 Furthermore, you also download any other malware remover like Kaspersky TDSS Killer to delete all the malware infected files from the PC.
7: Scan And Remove With Malwarebytes: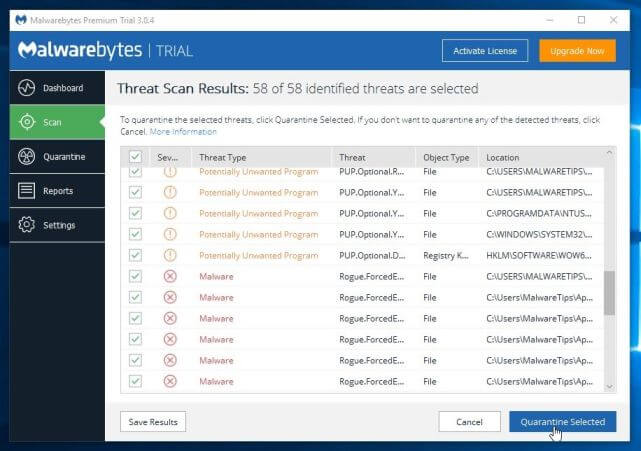 Malwarebytes is a malware remover that works most efficiently. This is a free anti malware software that comes for 14 days trial with 55 Mb installer and all the main features like malware killer, ransomware malware protection, rootkit remover and a repair functionality to fix any damage.
Just click on Scan button and kill all the malware the software detected as being malicious.
8. Now Remove Browser Malware:
Inevitably, malware infections are potential of damaging other Windows settings and system files. And the most spotted strategy of the malware is to infect your browser and change its homepage to re-enter into your system. To that end, you need to tweak the browser settings to reset the homepage.
9. How to Recover Important Data If Windows Get Corrupt:
During the process, if you fail to remove any of the malware of if that ends up in Corrupted Windows then you need to reinstall it. But this will result in losing all your data on the hard drive. So, copy it in any external source before you start reinstalling the Windows. Also, if you use any client program like Outlook, ensure exporting the messages and settings so that they can be safe. Besides, you can also copy the device drivers with the utility like Double Driver; to skip the process of downloading all those drivers again. Here is how you can reinstall Windows 10.
10. Keep Your PC Clean:
Once you have fallen victim, you would obviously never want to take the risk. For that, you need to keep your PC clean. Download any temporary file cleaner and a reliable anti virus. There are many antiviruses out there in the market that comes free and provide you adequate protection against viruses and malware. (also check, HOW TO PROTECT YOUR CHILDREN WHILE THEY'RE ONLINE)
Conclusion:
In short, it is all about how you figure out the solution immediately instead of panicking around. But, in order to sense the malware attack in its initial stage, you need to be cautious while using the internet. Here is the sign to detect malware attack on your PC. So, once you can sense the attack, you could then save your data and system with the help of our malware protection guide.