What is Coming UP on Netflix in February 2018? There many big movie titles coming up on Netflix in February 2018. This Christmas, Netflix is more into originals as we have already predicted. The popular streaming channel is releasing more Netflix originals than ever, with some of the big names. Tons of new Netflix titles are lined up to be available for streaming and along with that many new movies, TV shows are coming up on Netflix in February but in many regions, not all the Netflix items would be available for streaming, no you don't have to worry we got your covered you can still access all the programs of Netflix US library by using the best Netflix VPN which keep you glued to your TV or laptop screen which is the coolest thing this festive season.
Access Netflix US Library Outside the US
Unfortunately, some of the popular Netflix originals would not be available for UK, Canada, and IE region. However, so you can follow these steps below to access Netflix US library;
Choose a UK, Canada or IE Netflix  VPN.
Go to the website of VPN services and sign up for the service.
Install the required VPN App and sign in with the details emailed to you by the provider.
Choose the US server from the list of servers of VPN, then you can access the Netflix library with supreme stream speed.
Highlights of February 2018
Furthermore, Now let's look at the Netflix Highlights of February below and after that. Hence, I have compiled the comprehensive date-list of the shows, movies etc. coming up on Netflix in February 2018. Additionally, I have selected three titles for the quick review on Netflix original. Hence, one upcoming TV show and one movie (learn 11 Netflix hacks you need to know and enhance your streaming experience) on Netflix.
Additionally, you can see the complete list of all the upcoming titles on Netflix at the end of the article. Hence, you know what is coming up on Netflix in February 2018.
American Pie- Movie-February 1st
Furthermore, February 1st will bring lots of new movies to Netflix and continues the recent trend of adding entire franchises. Hence, First up is the coming of age movie series, American Pie. However, The first two movies are being added starring the cast you probably most commonly associated with the show. However, Netflix is also adding the spinoff movies too.
Bates Motel (Season 5)- TV Series-February 20th
Additionally, Fans of Bates Motel can finally rest as the fifth and final season is finally coming to Netflix towards the middle of the month. Hence, It'll conclude the prequel story of Norman Bates who will soon become the character we know in the Alfred Hitchcock movie, Psycho.
Altered Carbon (Season 1) Netflix Original Series-February 2nd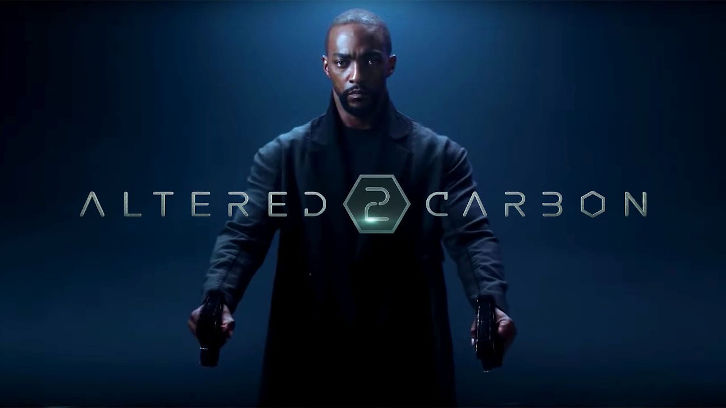 Furthermore, Perhaps the biggest Original this month is the sci-fi series Altered Carbon. Hence, it is Arriving on February 2nd, this new series brings a mind-bending concept and a stunning cast to Netflix. So, Don't miss
Complete List of Titles Coming up on Netflix in February 2018
February 1st
3000 Miles to Graceland (2001)
42 Grams (2017)
Aeon Flux (2005)
(1999) American Pie
(2001) American Pie 2
Band Camp (2005) American Pie Presents
The Book of Love (2009) American Pie Presents
The Naked Mile (2006 )American Pie Present
Ella Enchanted (2004)
Extract (2009)
GoodFellas (1990)
How the Beatles Changed the World (2017)
John Mellencamp: Plain Spoken (2017)
Kill Bill: Vol. 1 (2003)
Kill Bill: Vol. 2 (2004)
Lara Croft: Tomb Raider (2001)
Liberated: The New Sexual Revolution (2017)
Meet the Fockers (2004)
Meet the Parents (2000)
Men in Black (1997)
National Parks Adventure (2016)
(2001) Ocean's Eleven
(2007) Ocean's Thirteen
(2004) Ocean's Twelve
Paint It Black (2016)
Scream 3 (2000)
The Hurt Locker (2008)
Walk Hard: The Dewey Cox Story (2007)
ZNation (Season 4)
February 2nd
Altered Carbon (Season 1) Netflix Original Series
Cabin Fever (2002)
Coach Snoop (Season 1) Netflix Original Series
Kavin Jay: Everybody Calm Down! Netflix Original Standup Special
Luna Petunia: Return to Amazia (Season 1) Netflix Original Series
On Body and Soul Netflix Original Movie
February 6th
Fred Armisen: Standup For Drummers Netflix Original Standup Special
Valor (Season 1) The CW Exclusive
February 7th
Imposters (Season 1)
Queer Eye (Season 1) Netflix Original Series
February 8th
6 Days (2017)
The Emoji Movie (2017)
February 9th
Fate/Apocrypha (Part 2) Netflix Original Anime Series
My Next Guest Needs No Introduction With David Letterman: George Clooney Netflix Original Series
Seeing Allred Netflix Original
The Ritual Netflix Original
The Trader (Sovdagari) Netflix Original
When We First Met Netflix Original
February 14th
Greenhouse Academy (Season 2) Netflix Original Series
Love Per Square Foot Netflix Original
February 15th
Deep Undercover Collection (Collection 2)
Re:Mind (Season 1) Netflix Original
February 16th
DreamWorks Dragons: Race to the Edge (Season 6) Netflix Original Series
Evan Almighty (2007)
Everything Sucks! (Season 1) Netflix Original Series
Irreplaceable You Netflix Original
First Team: Juventus (Season 1) Netflix Original Series
February 17th
February 18th
The Joel McHale Show with Joel McHale Netflix Original
February 19th
Dismissed
FullMetal Alchemist Netflix Original
February 20th
Bates Motel (Season 5)
The Frankenstein Chronicles: Season 1 and Season 2 Netflix Original
February 21st
Forgotten Netflix Original
Lincoln (2012)
The Bachelors (2017)
February 22nd
Atomic Puppet (Season 1) Netflix Original Series
February 23rd
Marseille (Season 2) Netflix Original Series
Mute Netflix Original
Seven Seconds (Season 1) Netflix Original Series
Ugly Delicious (Season 1) Netflix Original Series
February 24th
Jeepers Creepers 3 (2017)
February 26th
El Vato (Season 2)
Heyday of the Insensitive Bastards (2017)
People You May Know (2016)
Sin Senos sí Hay Paraíso (Season 2)
Winnie
February 27th
Derren Brown: The Push Netflix Original Standup
Marlon Wayans: Woke-ish Netflix Original Standup